Allatoona Bass with Carter Koza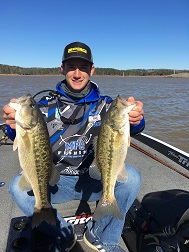 Lots of spots and the occasional largemouth feeding on gravel flats and bluff banks. Tournament limits consistently weighing 13 pounds, with some taking 18 pounds to win. Don't call Allatoona "The Dead Sea."
Allatoona is a 12,000-acre Corps of Engineer lake just north of Atlanta on the Etowah River. It is a small lake with a big drainage area, so the water level is well known for big changes, especially from winter and spring rains.
It can be tough to fish, but the spots there have increased in numbers and size over the past few years. For a long time it was hard to catch a keeper there, but three pound spots are common now, and most tournaments have multiple limits weighed in. At a January 6 Allatoona Team Trail tournament, it took 18.50 pounds for first. Their big fish was a 4.63 pound largemouth, so all their limit was quality fish.
Carter Koza is a sophomore at Mt. Parran Christian School in Kennesaw and on the fishing team. He grew up fishing with his dad, Jamie, owner of The Dugout and has learned well. He started fishing high school tournaments in the eighth grade and won the BASS Nation High School tournament at Eufaula in 2017. He has five top five finishes on that trail.
In 2017 he was Angler of the Year in the points standings on that trail and was runner up last year. He teams with his sister, Lee Rose Koza and they qualified for the FLW High School National Championship. Fishing is in his DNA.
"In February bass at Allatoona are setting up in early pre-spawn, feeding on gravel flats and bluff banks leading into spawning areas," Carter said. He covers those areas looking for active feeding fish. Stained water helps the bite a lot, and it is usually stained this time of year.
Carter's goto bait is a crankbait, but he will also have a Rat-L-Trap, a jig and pig ready to try. Although he covers water, he does not do a lot of running around, spending time on each area to fish all the good cover carefully.
We fished the following spots in mid-January on the worst possible weather conditions, the first day of a hard cold front after several days of warm rain. But Carter caught nine keepers, including two three-pound spots and one largemouth, in half a day on the water.
1. N 34 08.053 – W 84 39.200 – Across the cove from the Galts Ferry ramp a big flat point has a danger marker way our on it. This point is between two good spawning creeks and typical of the type flat Carter likes to fish in February.
Start at the pole, there is a lot of brush around it. Stop a long cast from it and fish a crankbait all around it. With the water low you will see the tops of many brush piles and they will hold fish even in very shallow water, so always cast to them.
Carter's favorite crankbait is a Spro RKCrawler and he especially likes the new model 50 in the mudbug color. It has some chartreuse in it to help the fish see it in stained water. He cast it on 12 to 15-pound Segar High VizX fluorocarbon line and uses a St. Croix LGC61 medium heavy crankbait rod.
Fish around the pole then into the downstream side of it into the creek, past the Atlanta Yacht Club dock and boat ramp. Make long casts, keeping your boat in about ten feet of water, and bump the bottom from two to eight feet deep.
Fish all the way into the creek until you are across from the danger marker about half way back on the other side. Then jump over to that side and fish around that marker, the private ramp on that bank and out about 50 yards. Carter caught a couple of keeper spots on both sides of this creek and lost two or three more that pulled off.
If the weather has been warm and sunny for a few days, warming the water, fish further back on both sides. Pay attention to the area you get bites in places like this, are the fish hitting out on the points or back in the creek and concentrate on those areas. Warming water will make the fish go further back into the creeks.
2. N 34 07.751 – W 84 37.752 – Run up to the mouth of Kellogg Creek and stop on the right just inside the creek past the first two small coves and the sign. This bluff bank is a good example of the kinds of bluff banks that hold pre-spawn bass.
Kellogg Creek is the best creek for finding big schools of baitfish this time of year, a critical factor in catching bass. And it has many good spawning areas in it. Fish along this bluff, keeping your boat in close and making angled casts ahead of you to bump the bottom from right on the bank out to eight feet deep or so.
Watch for any change in the rocks, bass like transition areas. A change in the kind of rock, a small point or a change from big rocks to smaller ones all should be targets of your casts.
3. N 34 07.749 – W 84 36.579 – A little farther back the creek splits into two arms. The point between them is another good bluff bank with big rocks dropping fast into deep water. Stop just inside this point on the main creek arm that goes to the right and work out and around it.
Carter says you can fish this one point and catch fish all day. Angle your casts to keep your bait in water where it is bumping bottom most of the cast. Carter says it is critical to be bumping the bottom with your bait to catch fish.
When you go over an area and catch some fish, go back over it. Try slowing down with a jig and pig the next pass to catch less active bass. Carter likes a black and blue Chattahoochee Jig in dirty water but goes to a green jig in clearer water. Match your jig color with a Zoom Chunk or Rage Craw.
4. N 34 07.398 – W 84 36.896 – Go to the Kellogg Creek Road bridge back in the main creek. Bridges are always good this time of year, they are choke points for bass moving back and offer a good feeding area. Carter caught a largemouth and one of his two biggest spots here, both on the RKCrawler, the day we fished.
Fish all the riprap on both sides, keeping your boat in close for angled casts. The points on both sides, all four corners of them, are key points. Also make a few casts to the pilings when you go under it, running your bait right beside the concrete.
A trap allows you to vary the depth you fish on them and in other places. Carter casts a limon one in stained water and chrome in clearer water. The loud buzz often triggers a bite as you reel it along.
On the upstream side of the bridge fish the boat ramp at Payne Day use area and the state brush pile around the pole in the middle of the creek arm. It gets very shallow fast around this brush with the water down but the brush will hold fish.
5. N 34 11.353 – W 84 35.286 – Up the river Sweetwater Creek is on the left just upstream of Little River. It is another good spawning creek and has good bluff banks on both sides. Fish both with all your baits, working the inside and outside area of the point and around it. Carter caught his biggest spot of the day on the upstream point when we fished.
Wind blowing across and along these bluff banks, as well as well as the gravel flats, helps the bite. Carter likes to work with the wind since it makes it easier to cast and lets him cover the water faster, as long as it does not move the boat too fast.
You can go back into Sweetwater Creek and others and fish rocks and blowdowns for largemouth, but you won't get a lot of bites. For a kicker largemouth, pick apart a blowdown with a jig and pig and bump rocks with it and your crankbait.
6. N 34 10.440 – W 84 35.731 – The downstream point of Little River is another good bluff bank in February. There is a good channel swing here where the Little River channel hits the bank. Bass winter on it since they can move vertically and start feeding more as the days get longer, moving into the river to spawning areas.
Start on the small rock and clay point on the downstream end of the bluff where it opens up into the main Etowah River. Fish into Little River, casting all three of your baits along the wall. Bump the bottom with the RKCrawler and run a trap right along the rocks.
When fishing a jig, work it slowly to follow the rocks as they drop. Carter sometimes dips the tails of his trailer in chartreuse JJs Magic for more flash, and spots seem to love chartreuse. Calm days may make the fish less likely to chase a moving bait so windless days are a good time to try a jig.
7. N 34 09.814 – W 84 34.958 – Go up Little River to the no wake zone at the bridge. Stop on the bluff on the right with 2L channel marker on it and fish up that rock wall to the bridge, then fish the bridge riprap.
Sun hitting the riprap here and in Kellogg Creek, and the natural rocks in other places, warms the rocks and raises the water temperature a little, something bass like. But they may be holding on the shady side, too, so fish both shade and sun on these spots.
8. N 34 09.107 – W 84 34.347 – On up Little River, Rose Creek enters on the right. When you get to it, slow down if you don't know the area well. Mud flats and wood are dangers here and you must follow the channel.
There is a big warning sign on the bank on the right. Just upstream of it, an outside bend of the river makes a good bluff wall. It is not as deep at the ones on the main lake but as the water drops bass move down the river to the deeper water on places like this and concentrates the fish.
Start on the downstream end of this bend and fish up it until it flattens out. Big rocks are on the bank and under the water that offer the bass feeding and holding cover. Fish it like the deeper bluff walls, working all three of your baits. Carter caught a keeper spot here on his crankbait the day we fished.
There are other outside bends like this up the river. All will hold fish but be extremely careful if you go further up, especially if the water is seven feet low like it was when we fished. If you try to run it and don't know it, you will run aground.
9. N 34 10.436 – W 84 35.324 – Back out at the mouth of Little River the upstream point is flat with small pockets along it. Inside the point is a bulkhead wall on the bank. Just downstream of that small wall is a point that has gravel and stumps on it. Other wood cover also washes in and sticks on it. Bass get more active in February on flats like this in the afternoon from the sun.
Start at the wall, keeping your boat in ten feet of water, and work out toward the end of the big point between Little and Etowah Rivers. This big flat holds lots of pre-spawn bass roaming it feeding. Make long casts toward the bank and bump the bottom with your crankbait. Work out to the orange sign near the point. When you catch a fish, go back over that area since the bass tend to roam in schools.
10. N 34 10.064 – W 84 36.785 – Back down on the main lake channel marker 30E is on your left at the Boy Scout Camp. There is a small ramp on the gravel point the marker is on and it is good one for pre-spawn bass.
Stay out in 10 top 12 feet of water and bump the bottom with your baits. Be sure to make several casts to the ramp, they hold fish. Carter got bites on almost every ramp we fished, landing several keepers and losing several more that pulled off.
Fish around this point and the next one, too. Both hold bass that are getting ready to spawn in the pockets between them. Both are typical of gravel flats that are good this time of year, the boat ramp makes it even better.
These places and similar ones all over the lake are holding feeding fish right now and will get better all during the month as the water warms.
You can follow Carter on Facebook at https://www.facebook.com/carter.koza.31 to see some of the fish he catches and how he caught them.
Do you find these Map of the Month articles helpful? If so visit http://fishing-about.com/keys-to-catching-georgia-bass-ebook-series/ – you can get an eBook or CD with an article for each month of the year on Clarks Hill and Lanier.