No boat? No problem when you visit the Gulf Coast.
by Frank Sargeant
from The Fishing Wire

Many anglers who visit the endless sandy beaches between Dauphin Island, Alabama, and Panama City Beach, Florida, come without boats. Trailering a large boat is a hassle, and many anglers don't want to put their flawless $50,000 bass boat and trailer into saltwater that can corrode metal parts. But this is not a problem in several locations, thanks to resort destinations that cater to anglers and boaters.

Not only are there literally hundreds of boats of all sizes for rent and for charter along the coast, there's also very good—and free–wade-fishing or kayak fishing along much of this stretch, all the way from both sides of Dauphin Island to St. Andrews Bay at Panama City Beach.

I enjoyed some great action on blues, jacks, ladyfish, trout and reds both from rental pontoons and also while wade fishing on a recent visit to Florida's Grand Lagoon, just inside Panama City Beach Pass, the manmade cut that leads into St. Andrews Bay. I've had similar results in previous visits to Dauphin Island and to Orange Beach.

As throughout much of the Gulf Coast, there are loads of quality accommodations here very close to the water—but one of the very few directly on the bay with docks right in front of the hotel is the upscale Sheraton Panama City Beach Golf and Spa Resort on Jan Cooley Drive. Check them out at https://www.marriott.com/hotels/hotel-information/pfnsi-sheraton-panama-city-beach-golf-and-spa-resort.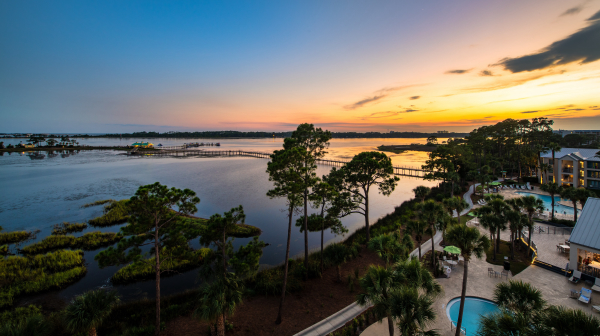 The Sheraton Panama City Beach is a great spot for anglers and boaters, with wadefishing on the premises, boat docks just across the walkway over the lagoon.

The hotel, rebuilt repeatedly after getting hammered by hurricanes, is now ideal for those who enjoy boating and fishing as part of their beach vacation. It's directly on Grand Lagoon, with an extended walkway reaching out across grass flats and needle-rush marsh to the marina, and to some great wade fishing. There's also a private beach on the lagoon here—a good spot for those who don't like the waves and the crowds of the main beach along the Front Beach strip. (If the fish don't bite—rare—you can always play golf or tennis or enjoy the miles of great walking paths.) Anglers also like "Flip-Flops", an open-air bar and restaurant overlooking the lagoon, so close you can hear the mullet jump.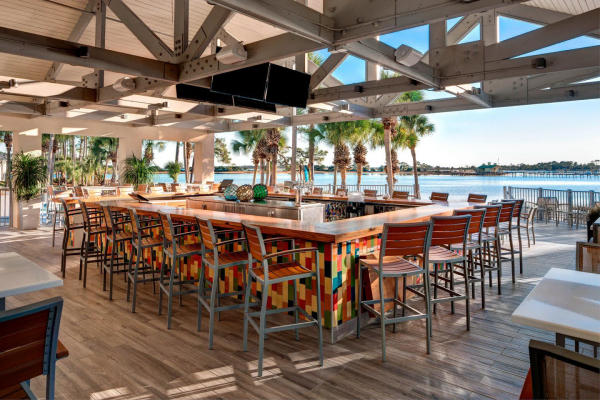 Flip Flop's Bar and Restaurant in Panama City Beach is close enough to the lagoon to hear the mullet jump.

Alligator Point extends out from the corner where Grand Lagoon makes off to the west from St. Andrews Bay proper, and like many "elbows", it's a likely fishing spot. There's grass here to several hundred yards offshore, all wadable at depths from 1 to 3 feet. For those not staying at the hotel, there's a public access at the end of Jan Cooley Drive good for wading access or to launch a kayak. I caught trout and one big redfish throwing a Rapala Skitterwalk topwater at dawn off the point, while after the sun got high the trout and reds disappeared but several schools of 2 to 3 pound bluefish and lots of ladyfish and small jacks swarmed baits on the edge of the flats—a half-ounce Krockodile spoon caught all I wanted. This same action continues all along the north Gulf beaches until water temperature drops below about 67 degrees, which pushes the baitfish south.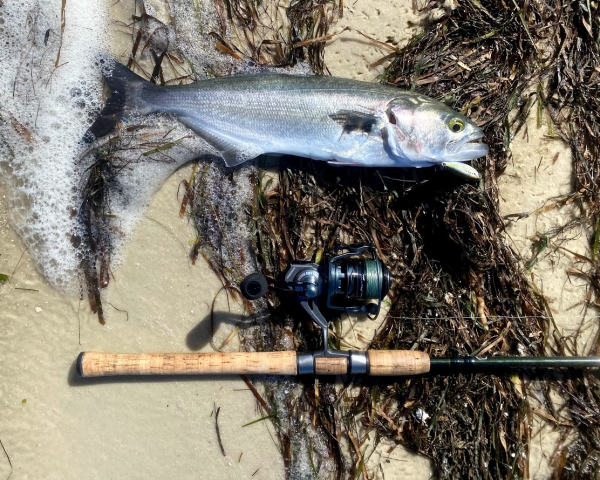 Bluefish are a common catch all along the Gulf Coast so long as the baitfish are still present, which they typically are from April through early November. While wadefishing gets you to lots of fish, it's also possible to rent kayaks and paddleboards at many locations along the coast, adding considerably to range as well as allowing you to fish deeper water if that's where the fish are holding.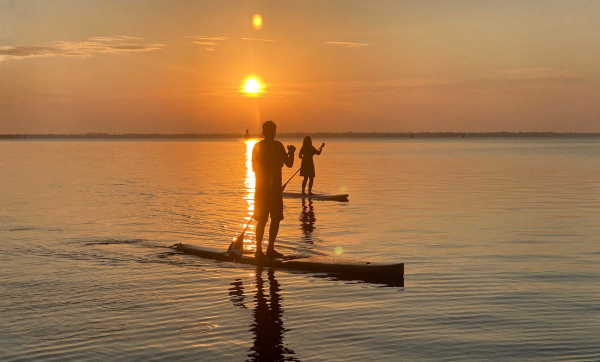 Standup paddleboards float in just inches of water, while allowing access to miles of great flats fishing all along the north Gulf Coast.

Fish the larger passes here and you get into other species. Deep water and lots of flow at Panama City, Destin, Pensacola, Perdido and the mouth of Mobile Bay means lots of bait and lots of big fish. Everything from 30-pound redfish to 5-foot-long king mackerel and 60-pound cobia prowl these passes, along with more big sharks than most of us want to deal with.

There are also nice mangrove snapper on the deep rocks, and an occasional keeper-sized gag grouper—put down a live sardine for them on 60-pound-tackle. If all this is not enough to provide your angling fix, you can also visit the sugar sand beaches that stretch some 160 miles. Holes right along the beach hold whiting and pompano ready to grab a shrimp tail, while outside the bar big reds and cobia cruise, along with tarpon in summer.

And of course all this is added to huge charter and party boat fleets at marine centers all along the coast. The big boats are ready to take you out for anything from red snapper and grouper to blackfin tuna and blue marlin.In short, there's no need to bring a boat to the north Gulf Coast to enjoy the fishy bounty. 

For information on other accommodations, restaurants and area attractions in the Panama City Beach area, visit www.visitpanamacitybeach.com.

For Pensacola Beach visit www.visitpensacola.com.

For the Alabama coast, visit www.gulfshores.com.