Catching fish like these in practice at the Clarks Hill Top Six gave me hope!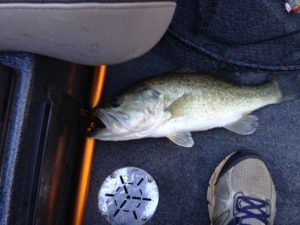 A week ago last Wednesday I went to my place at Raysville Boat Club on Clarks Hill to practice for the Top Six tournament. I have no TV there and it was wonderful to escape the insanity of the world for six days. No talking heads babbling about how they have to take my guns to protect kids, no whining about the actions of a duly elected president, no stupidity about how words upset some people, so they need to be banned.
The weather was not great for fishing. It was so cold and windy Thursday morning I did not go out until noon. While idling around looking at brush piles and trying to find schools of bait fish, I kept looking at the bank. The lake had come up about three feet and the shallows were full of dead weeds.
At one shallow cove that was protected from the wind I decided to try fishing it. After just a few casts with a Chatterbait I hoked and landed a three-pound largemouth. I was surprised it was in two feet of water with the bright sun and hoped it was not a fluke I caught it.
After fishing a couple more places like that without a bite I was afraid it was, but then I pitched a jig head worm to a tree top in a couple of feet of water back in a pocket. I thought I had a bite and when I tightened up my line in the wind I realized it was headed for deep water.
When I set the hook my heart almost stopped when a big bass took off then jumped clear of the water. After two more jumps I managed to land a bass that weighed six and one quarter pounds on my scales. That made me feel pretty good there were some quality bass in shallow water, although the temperature was only 56 degrees.
The first bass looked like a male, without the fat belly of a female this time of year. The big one was very fat, and her tail was bloody and raw, like she was fanning a bed. Many bass tried to bed a few weeks ago when the weather had been unusually warm so many days, but the cold weather made them back off. I tried a few more places without a bite before heading in.
Friday morning was even colder and the wind blowing even more, but I got up and on the water as the sun came up. After trying two shallow coves with weeds I caught a bass a little over three pounds on the Chatterbait, strengthening my faith in that pattern. I fished some points and brush piles where the bass should be holding this time of year, waiting to go in and spawn, but got no more bites before giving up and heading to a warm place to take a nap about noon.
Saturday was better, with little wind and much warmer. I fished several places where I had caught bass in the past under these conditions and hooked and lost one over four pounds and several smaller bass on the Chatterbait. I also lost one over three pounds on a crankbait and caught several on other baits. That make me think the bass were responding and moving into shallow water.
Sunday morning was colder, and I hooked only two bass in the weeds, but at least there were some still in them. When I headed in to get ready to go draw for partners I thought I could run a lot of shallow backouts with the Chatterbait, catch a quality bass out of a few and have a good limit after eight hours of fishing.
At the meeting I was told I would have an observer fishing with me Monday morning since there was an uneven number of boaters and no boaters. But the next morning, after meeting him and getting his stuff in my boat and lining up to launch, the tournament director called me. Another no boater had dropped out and they wanted me to leave my boat in the parking lot and go out as a no boater.
After a lot of confusion and me telling them I
would just go home and not fish, they finally made arrangements for the extra boater in the club that had a no boater back out at the last minute swap and take his place, I was the last boat to go out, about ten minutes behind everyone else. We made a 30-minute run in very rough water to the place I had caught the six pounder, but the wind was blowing right into it and it was almost unfishable.
After three hours of not getting a bite trying the Chatterbait pattern I gave up and started fishing just to try to catch a keeper and landed four. With an hour left to fish I decided to try the Chatterbait one more place and hooked and lost a bass that looked like it weighed close to four pounds. In the very next pocket I landed a bass over 3.5 pounds.
At weigh-in my five weighed 7.67 pounds and one of them was as heavy as the other four put together. The next day we again tried the Chatterbait pattern and my partner and I caught one each doing that, and each had four more keepers. The bass again didn't hit the Chatterbait until there was only an hour left to fish.
My five the second day weighed 8.64 and my biggest fish was about half of that weight. I ended up with 16.31 pounds and 41st place out of 130 fishermen, not the finish I had hope for!